Welcome to
Ledroit Park Renaissance Bed and Breakfast!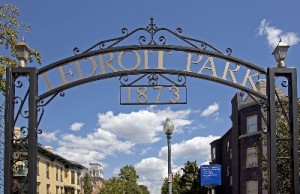 This is the place to relax while enjoying Washington, DC, the capital of the United States.  Whether you are a business traveler, international globe trekker, or on vacation, the Ledroit Park Renaissance Bed and Breakfast has an accommodation for you.
Our B & B home is centrally located and simply furnished for your comfort.  After having a continental breakfast if you chose to, you can walk to most of the historic sites of Washington, DC, and still be close to shopping, tours, museums, and in the city meeting sites.
The nation's capital is a person friendly Mecca.  We have many inexpensive ways to get around, from a world class subway system and bike share program to great bus lines and taxi service.  Washington is a great place to take a one or two day trip from New York, Philadelphia, Baltimore, and many other cities.
We here at the Ledroit Park Renaissance Bed and Breakfast love to answer questions and assist our guess with their travel request.  We have a relationship with the New York Renaissance Bed and Breakfast allowing our guests a high quality stay in New York City for a reasonable price, if they chose.  We can also help you with any tour or sightseeing request you may have while staying at our humble home.
Please let us give you a taste of southern hospitality with an inner city flare.  Join us at the Ledroit Park Renaissance Bed and Breakfast today.
Here's a few images for your enjoyment…